After school clubs, pe and sports events
School PE lead is Adelle Burnicle
After Schools lead is Holly Smith
Change4Life Lunchtime Club
This term, children from KS2 are taking part in a lunchtime Change 4 Life club. The Change 4 Life Programme is a healthy lifestyle programme to support primary school children. It involves lots of fun and practical activities for children, including healthy eating tips, making healthy snacks and participating in team games to encourage a healthy lifestyle.
This week, the children enjoyed participating in team games which enabled them to build up their relationships with the other children, get their bodies moving and to develop their skills in a particular sport. The children who attend the club will be Change 4 Life ambassadors for our school.
Laps to Lapland
Rudolph needs our help! He needs to get back to Lapland from Valley Road. It is 2268 miles to get there! We have 14 days to do it! So far we have managed 1004 miles.
Emerald class have completed the most miles so far. Well done Emerald.
Sports Day 2019
Well done to everybody who took part in Spots Day this year. Congratulations to all of our winners.
Farringdon Sports Event
Play leaders from Farringdon Sports Academy came to Valley Road today to host a sports event for Reception children. Some of our Year 5 play leaders helped too. We had a brilliant time. The children enjoyed taking part, cheering on their team mates and showed off some of their excellent PE skills: running, jumping, throwing and catching. Well done everyone for taking part and being such aspiring athletes.
The Royal Marines
Today the Royal Marines visited our school to work with children from Year 5 and 6. Our trust school Highfield, also came over to join in the fun. We took part in team building games, travelled through a giant assault course and we toasted marshmallows around the fire pit. Come and see us in action.
Dance Festival
On Thursday 20th June 2019 20 children took part in the annual Dance Festival at the Sunderland Empire. The children put on a fantastic performance and represented our school exceptionally well. The children in Year 5 and 6 were very helpful and mature and they did a great job of supporting the younger children. Well done to all of the children who took part- you are a credit to Valley Road and we are incredibly proud of you!
Athletics
We took part in an athletics festival with other schools. We learnt lots of skills such as, throwing, catching, running and jumping. We had lots of fun and made new friends.
Skipping Day
Year One took part in a sponsored skip to raise money for the British Heart Foundation and equipment for our playground. We did lots of different skipping activities such as a skipping replay, long ropes and freestyle skipping. We had lots of fun!
The Daily Mile
Today was the launch of the Daily Mile. The Daily Mile gets children out of the classroom for fifteen minutes every day to run or jog, at their own pace, with their classmates, making them fitter, healthier, and more able to concentrate in the classroom.
The Olympic athlete Aly Dixon came into school and talked to us in assembly, about her journey to the Olympics.
Ally grew up in Sunderland and developed a love of running, while watching her Dad do Marathons on weekend. After years of hard work, determination and resilience her dream came true and she represented Great Britain in the 2016 Rio Olympics.
After cutting the tape we were off! It was so much fun running and walking the mile. We are going to be doing this in school most days and we look forward to keeping fit!
Gymnastics Key Steps Competition
Well done to all of the children who took part in the Gymnastics Key Steps competition.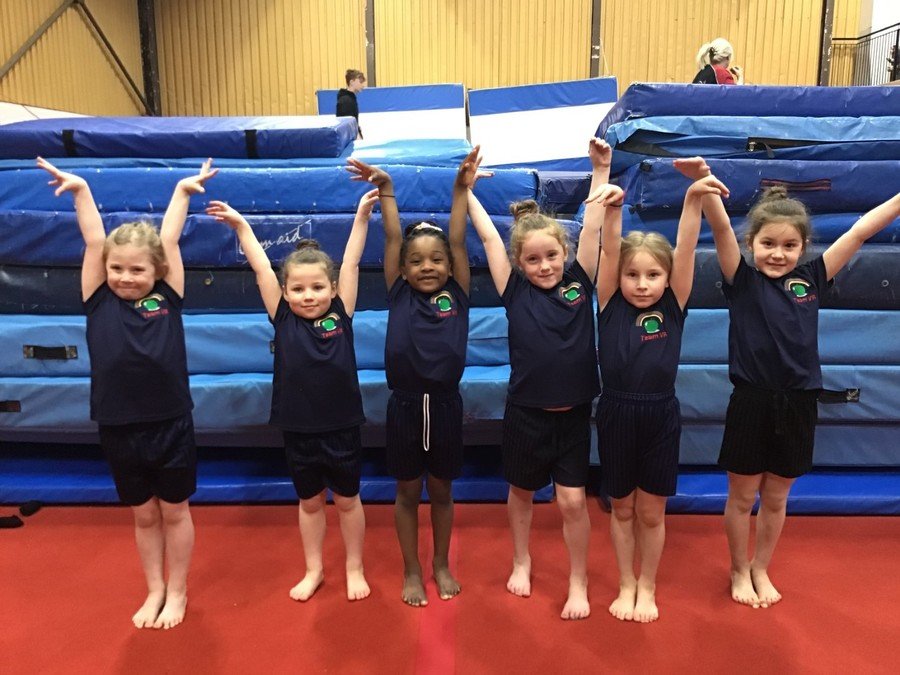 The Key Stage One children were the overall winners in their category and later in the year, they will go on to represent Sunderland in the North East finals. This is a fantastic achievement. Well done!
Inter Schools Competition
On the 20th March, Year 5 and 6 children from Valley Road and Highfield Academy took part in an inter school Key Steps gymnastics competition. Twelve children from each school were chosen, to display their fantastic gymnastics skills. They were required to learn a seven piece set routine and perform it in front of a gymnastics judge. They were all amazing but the overall winners were:
1st Neve Hayley and Kelsey Douthwaite
2nd Jodie Robins and Madeline de Cruz
3rd Savannah Duggan and Yasmine Diabate
Well done to everyone who took part. You were a credit to your school. We look forward to the Year Three and Four competition in the summer.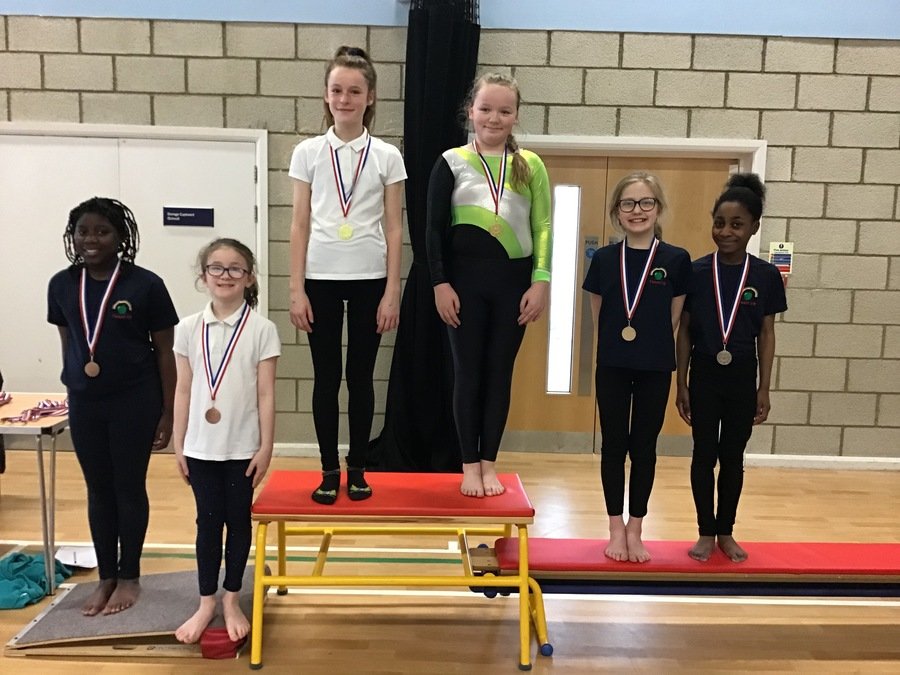 After School Clubs
After school clubs are a great way for children to gain confidence, improve their skills and they are personalised to meet the needs of all ages and abilities. Children will be provided with the opportunity to experience new activities that they may not have previously had the opportunity to take part in.
At Valley Road we offer a wide variety of exciting and enjoyable after school clubs to children in key stage 1 and key stage 2. We have sports clubs such as dance, gymnastics and football which support children's physical skills and we have curriculum clubs including STEM science, Art and Maths. When attending these clubs children have fantastic fun, make new friends with other children and they develop specific skills, interests and talents.
Our lunchtime coaches come into school twice a week to promote team games and turn taking, this has significantly increased participation of sport for all children within school. Throughout lunchtime there are a huge range of different sporting activities available to all of the children, allowing them to experience a variety of sport to support them in leading a healthy lifestyle.
We have a wide variety of After School Clubs. Please make sure you know what is happening and check out the
Friday Flyer for any new information
Judo
This week British Judo, the National Governing Body for Judo, have been in school. They delivered some taster sessions with us. It was great fun practising some moves and learning about how judo can keep us fit and healthy.
Year One Gymnastics
Year One have enjoyed taking part in a gymnastics festival, at Raich Carter. It was lots of fun trying new skills and meeting friends from other schools.
Sportability
Rainbow room represented Valley Road at the Sportability Schools Games competition. We are waiting to hear whether any of our pupils made it to the Tyne and Wear Finals.
Swimming
Well done to Year Five who took part in School Games Swimming Tournament, at The Aquatic Centre. They enjoyed it so much, we are looking forward to starting a swimming club in the summer.
Lunch Time Clubs
We have sports coaching coming into school on a lunchtime. We play lots of different games, including dodgeball. You can see some of us in action below.
Lunchtime Yoga
During lunchtime we do yoga. It is very relaxing and it helps us get ready for learning after lunch.
Dance Festival
In June 2018 20 children from our school took part in the annual dance festival at the Sunderland Empire
Bienvenidos al club de Espanol/Welcome to the Spanish club
Every Monday children from year 3 to 6 have the chance to learn about Spanish culture and traditions. We are having fun making crafts, dancing and cooking!
We are so lucky to have our own badge!
We have been making bookmarks to celebrate 'El dia del libro' ( "World book day")
We have been also celebrating 'La Feria de Abril'. We have learnt how to dance 'sevillanas' and we have also made a special 'Manzana de chocolate' (chocolate apples) to learn the basic steps of this traditional dance !Bien hecho chicos y chicas! Well done!
They were yummy!
We have been having fun and we are looking forwards to continue enjoying more activities.