Spring 2019 Gallery and Work
Red Nose Day
For Red Nose Day we enjoyed our very own Royal Red Nose Day Talent Show, the children throughout the week had the opportunity to think about and practice a talent they would like to share in front of the class. On Friday the children showcased these talents with some very big surprises.
Jessie' I was shocked at how good everyone was'
James' I enjoyed everyone clapping when I had finished my song I felt famous'
Sam ' I felt nervous but my friends helped me and I was proud'
British Science Week
The theme for British Science Week 2019 was 'journeys'. The theme encouraged us to think about the journeys made to make discoveries over time, the journeys involved of everyday items we use and the journeys we make ourselves everyday.
In Year 3 we had the task of 'Make it Fly' we had great fun in teams designing and creating our very own Paper Aeroplane in the time we were given. We then went outside and tested the planes to see which team won.
Fanta ' I knew my team was going to win because we didn't make a huge plane and we added extra wings onto the side'
Jakey 'I enjoyed working as a team sharing our ideas and testing the planes'
Tennis
Year 3 have been given the opportunity to take part in a tennis competition and this week have been taking part in some tennis lessons with a professional coach. The children learnt some new skills and enjoyed shared these skills in front of their friends and enjoying a little competition.
Molly ' I enjoyed tennis as I didn't think I would be able to do it'
Luca 'I enjoyed learning some new tennis skills'
Learning From Home
The children in Year 3 have created and made some amazing things at home with their adults, which they have brought into class to display and share with their friends.
Take a look at some of the amazing things they have made.
Emma ' I had fun making this with my mam we went to the shops to get all of the things so it would be magical'
Katelyn ' My mam helped me make my magical underwater box it was lots of fun'
Hajera- I made this at home it is for keeping Tinkerbell in so she has a new house'
Angel- 'I enjoyed making my Peter Pan box it didn't take me very long but it was fun'
World Book Day
The book we chose to look at for World Book Day was Peter Pan. Peter Pan is a magical character that the children in Year 3 have enjoyed reading about. As part of the World Book Day activities throughout the week we made our very own Tinkerbell Crowns and Peter Pan hats, we then used them to do some hot seating and role play.
Jessie ' I love my crown when I wear it I feel magical like Tinkerbell'
Sam- 'I wish I could fly like Tinkerbell and she is a little naughty like me'
Jack- 'I felt like I turned into Peter Pan when I had my hat on'
Our Favourite Books
During World Book day we brought into class our favourite books from home that we like to read and then shared with our friends the reason we like them and if we would recommend our friends to read them and why.
Take a look at some of the books we like reading both at home and at school.
Molly ' This is my favourite book because it is very funny and makes me laugh when I read it.'
James ' This is my favourite book because the character is a little bit like me.'
Samiha- 'This is my favourite books because they make me feel happy when I read them and I enjoy them.'
Nasiha- 'This is my favourite book as I just love reading it'
Broom House Farm
As part of the Sir Tom Cowie Foundation Year 3 went on their second visit to Broom House Farm. The weather was cold but we had an amazing time seeing all of the animals and learning how hard it is working on a farm everyday.
During our visit we got to hold some chickens and collect freshly laid eggs, we fed the cows who were nearly ready to go out into the fields after a very cold winter and spring and we also saw the sheep who were ready to have the lambs.
Emma ' I love going to the farm and seeing all of the animals we learn lots of new facts that we can share with our friends.'
Arfath ' I enjoyed collecting the eggs that the chickens had just laid'
Fairy Houses
During our visit to Broom House farm the children are given the opportunity to also go into the forest and build magical fairy houses. The children work hard in teams to create out of natural materials such as pine cones, twigs and moss houses that will protect the magical fairies. This experience allows all children in the class to freely be creative and use their imagination.
Billy-Jay- 'My house has a lift and a secret door so the fair can hide'
Emma- 'I had lots of fun digging and building and being outside'
Hajera- 'I liked collecting the twigs and pine cones and using my imagination I think I even seen some fairy dust on the ground'
Art and D.T
As part of our Volcanoes and Earthquake topic this term, we made our very own clay volcanoes. We had to mould the clay into the shape we wanted our volcano to be, then we carefully used water to add small details before the clay dried.
Billy- Jay- "I loved making my Volcano; it made me feel calm when I was moulding the clay."
Tejal- "The clay felt very cold on my hands, it was so much fun."
Sam- " I am really excited to erupt my volcano."
Dance Festival
Year 3 took part in an amazing dance festival at The Raich Carter, they had the opportunity to learn some new Zumba moves and take part in Clubbercise using glow sticks. The dance festival allowed the children in Year 3, to experience and share their talents with the rest of the group as well as have fun.
Layland- "I loved using the glow sticks."
Molly "I enjoyed learning new Zumba moves, it was fun being with my friends."
Kyle- "I liked trying the new activities, some of the dances were very fast."
During our Computing lesson this term, we have been looking at coding. As part of the lesson, we had to design our very own track and create a set of instructions for our partner to use to help guide our car to the end of the track.
Ellie- May- "it was so much fun guiding the cars around the track, we had to make sure our cars went the right way and didn't fall off the track."
Leyland- "I liked the coding cars because they were fun we had to guide the cars onto the track so it didn't fall into the lava. It was quite hard but as a team we worked together."
Emma- "It was so much fun using the cars and designing the track, we all wanted to win."
During our topic lessons, we have been researching and creating with our partners our very own presentations about Volcanoes.
We used a range of resources to collect the information we needed about volcanoes, then we skimmed and scanned, and finally created our presentations.
Simritpreet- "I enjoyed finding out about Volcanoes."
James- "Did you know most Volcanoes are found in The Pacific Ring of Fire."
Billy-Jay-"I enjoyed creating my own presentation, it was really fun."
Nasiha created her very own Volcano artwork at home using the stitching skills she had learnt in school.
Nasiha said, "The picture took a long time to make as I had to punch all of the wholes out of the board before. I enjoyed stitching because it is calm and relaxing."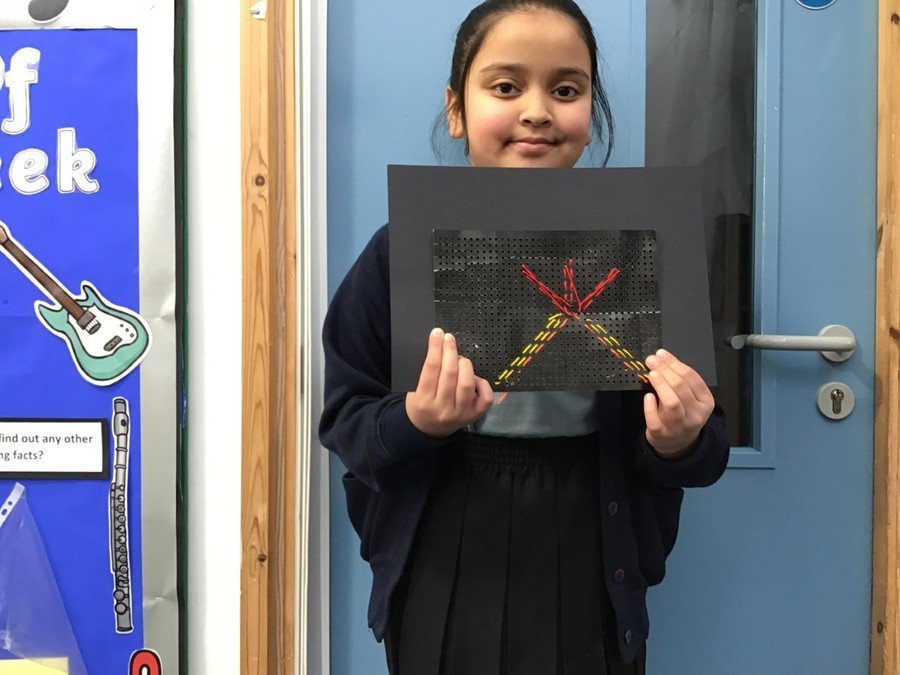 Angel made her very own Volcano at home with her Mam. She made the Volcano out of paper and then covered it in paint. She then added tissue paper for the land and the lava.
Angel said, "I enjoyed making my Volcano at home because when I was making it I could spend lots of time on the little details. I also love making things."