!Hola chicos y chicas!
Welcome to our Spanish lessons!
At Valley Road Academy we believe strongly in the benefit of learning a foreign language at an early stage and we are happy to share with all of you our first steps in Spanish across the whole school.
If you want to discover all the activities, games, songs...that we learn in our lessons, please visit our Spanish blog "Viajando por el espanol" We will have a lot of fun together! :-)
!Hasta pronto! See you soon!
European Quality label for the excellence
Valley Road Academy has been awarded with the European Quality label for the excellence of our collaborative eTwinning project 'Aprender a cooperar. Somos tus profesores/ Learn to cooperate'. This means that the work of our students, our school and our community have been recognised at the highest European level.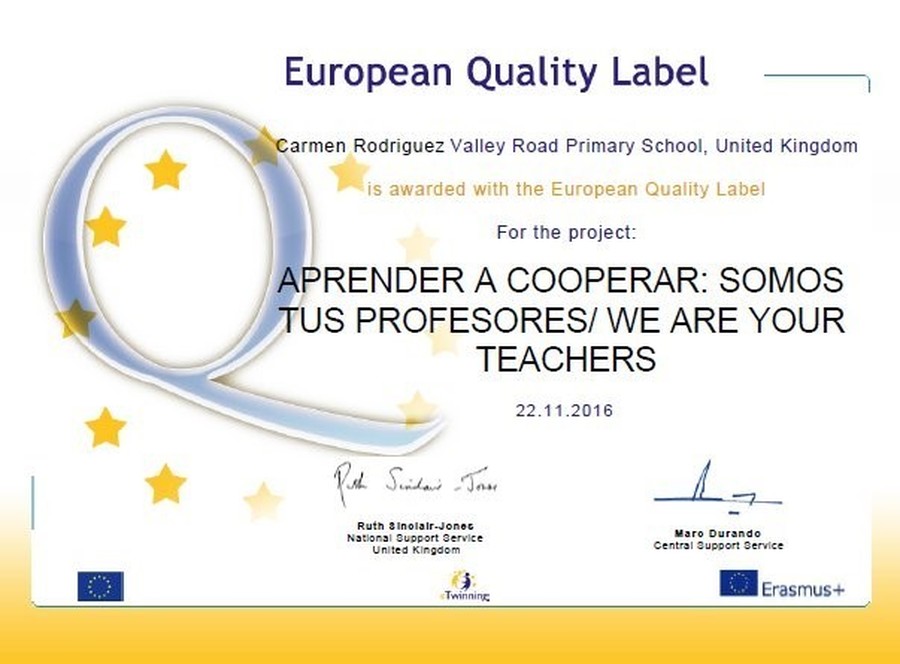 Taking part on this fantastic eTwinning project, has enabled our children to become Spanish and English teachers while exchanging activities and challenges with pupils from 'Colegio la Enseñanza' (Valladolid, Spain) and Burscough Village Primary School (Lancashire, UK)
Everybody is very proud of this achievement and we are looking forward to continue working hard while learning about other countries and cultures.
'Everybody enjoyed receiving this amazing prize and taking part in the eTwinning project' By Dylan and Lewis! Year 6
Our project will be displayed in a special area on the European Portal at www.etwinning.net. Let's have a look! J
!Bien hecho chic@S! :-)
Exchanging the first challenges with our 'Amigos españoles' (Spanish friends).
Our pupils from year 3 have received the first challenge from Murcia, Spain.
https://www.youtube.com/watch?v=SQMtM7kpW60
We have been watching the video while introducing ourselves and sending a new challenge: What did dinosaurs eat? Let´s watch the video!