Spring Term 2022 - Gallery and Work
Random Act of Kindness Day
We read 'The Not so Perfect Penguin' and 'Sharing a Shell'. We talked about what it means to be kind to others and what we might do to be kind. We placed words and pictures on our kindness tree and created a kindness potion. What would you put in yours?
Children's Mental Health Week
This year's theme is Growing Together. In Reception, we read 'The Very Hungry Caterpillar'. We talked about how the egg grew into a beautiful butterfly and the changes it went through. The children were able to talk about how they have changed and grown. They drew pictures on their butterfly wings to show what they have learnt and achieved since coming into Reception. We also made our own worry monsters- "They will take all our worries away!"- Kendall
Number Day
Reception really enjoyed Number Day. They completed lots of number challenges, making number crowns and eating number biscuits.
National Storytelling Week
This week is 'National Storytelling Week'. We started the week by visiting the library, we looked at and shared different stories.
We made our own stick puppets and retold stories using them.
Finally, Mrs de Muschamp read 'The Gruffalo', it is one of our favourite stories in Reception.
Chinese New Year
We have been learning about Chinese New Year. We learnt about different traditions and read 'The Great Race.'
In PE, we used our bodies to move in different ways, then joined together to make a Chinese dragon. As well as making Chinese dragons and masks.
We listened and learnt about Chinese music then made our own Chinese drums.
Finally, we made Chinese stir fry using noodles, vegetables and Chinese sauce. We ate this with prawn crackers. It was very tasty!
Converting media.
(Media will continue converting in the background)
Rainbow Readers
Well done to our Rainbow readers!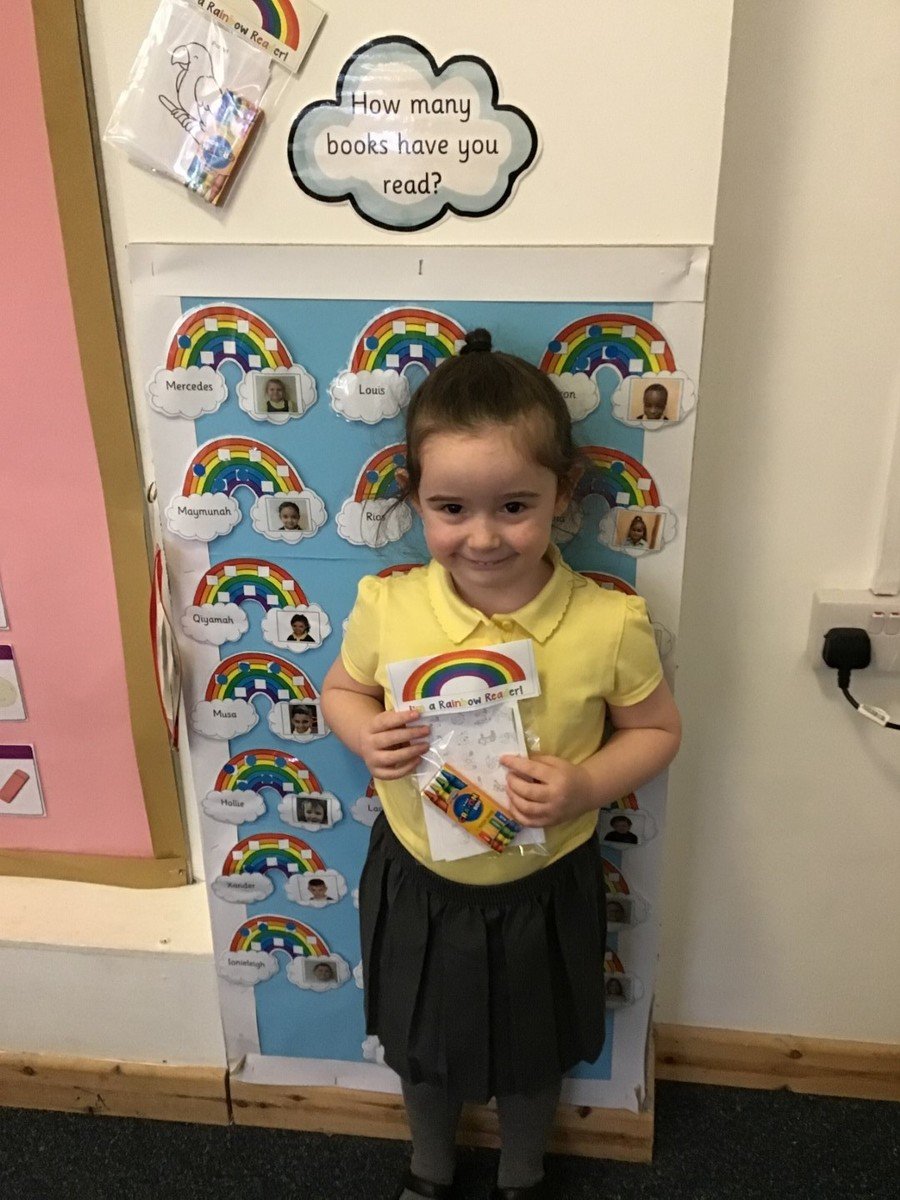 Stick Man
We read the story 'Stick Man'. We retold the story using the puppets and props in the small world area. We used cards to order the story and talked about key events.
"He will get burnt in the fire, he must run outside in the snow!" Frankie J
We collected sticks and made our own stick men and stick women. We made and wrote birthday cards for Stick Man.
Exploring Ice
We have been talking about winter and how the weather changes. Lots of our children have noticed the ice and frost on the ground as, they come into school. We decided to look at ice a little closer. As we passed ice around, we talked about how it felt in our hands and noticed it was beginning to melt. We then discussed why the ice was melting and what it was turning back into.
We set up a snowflake investigation table where we looked closely at how snowflakes are made up and made our own using the loose parts.
The poor animals were stuck in the ice and it was our job to rescue them. We carried out an experiment to see what would melt the ice the quickest. We tried water, water and salt then water and sand. We rescued the animals from the ice!
Emperor's Egg
We read 'The Emperor's Egg'. We were able to tell our friends' facts about Emperor Penguins using the puppets and props in the small world area. We were able to recall lots of facts and new words from the book. We also used the iPads to find out more facts about Emperor Penguins. Did you know that the female penguin is sick in the chick's mouth? Yuk!