Spring Term 2022 - Gallery and Work
The Story of Easter
In R.E, Year 3 have been working very hard learning about why Easter is important to Christians. We made our own Easter story book and shared it with the children in Year 1. We gave them a copy to take home too!
Easter Crafts
This week, we loved having our parents and carers come into school to help us with some eggciting Easter crafts. We made some eggcellent Easter goodies. Come and take a look.
Friday Feeling
Year 3 have that Friday feeling! Our first group of children went to Seaham beach, to explore the outdoors. We loved being in the fresh air and enjoying the nature on our doorstep. While we were there, we learnt about water safety, built volcano castles and made messages in the sand!
Broom House Farm
This week, Year 3 went on their spring trip to Broom House Farm. Although it was cold and snowing, we still found glimpses of spring. Daffodils, snow drops and dandelions were growing around the farm, the piglets were getting bigger and the tiny lambs were being born. We can't wait to return in summer and hopefully it will be a little warmer!
Art
Year 3 have been looking at the artist Megan Coyle. We enjoyed looking at some of her work and carefully studied the techniques she uses. We decided to create some large-scale collages of our own, by tearing, layering and overlapping. Take a look at some of our fantastic work.
Handball
We took part in a handball festival at Hudson Road Primary School. It was great being with other schools and learning a new sport. We tried really hard passing and receiving the ball accurately. We worked in teams and thought about the best tactics to win the game. It was lovely being outside, playing in the sunshine.
British Science Week 2022
Year Three enjoyed taking part in British Science Week 2022. The theme this year is 'growth'. We worked with Mrs Pearce and looked at growth of alternative energy, for example wind, to power cars. We were asked to design a car that could be powered by wind. We thought about the best materials to use and how we would use the materials for different parts of the car. We predicted which materials would work best. We also used lots of mathematical skills such as, measuring, reading tables and solving problems. Take a look at some of our cars – some materials worked better than others!
World Book day 2022
Year 3 enjoyed reading lots of stories for World Book Day. We picked our favourite characters, we then designed and made them using potatoes. We learnt a World Book Day rap and we loved dressing up and taking part in the school parade. "This has been the best day ever!" Skye said.
Making a Volcano
In D&T, we have been designing and making volcanoes, using papier mache. After a messy afternoon of gluing and sticking, we let our volcanoes dry. The next day we painted them using different techniques, such as brush strokes and dropping the paint from above to run down the side like lava. In Geography, we have been learning about different types of eruptions. We used baking soda and vinegar to create an effusive eruption, and Coca-Cola and Mentos to create an explosive eruption. This was so much fun!
Number Day
For number day, we came to school dressed in our favourite numbers! Year 3 and 4 took part in a carousel of activities. We had lots of fun completing maths activities. We had a times tables competition on Times Tables Rockstars and Hit the Button, played some bingo, took part in a times table hunt around the school and worked hard completing NRich investigations!
Reading Superstars
"The more you read the more you know!" Dr Seuss
These are the first children to achieve their bronze reading award!
Sky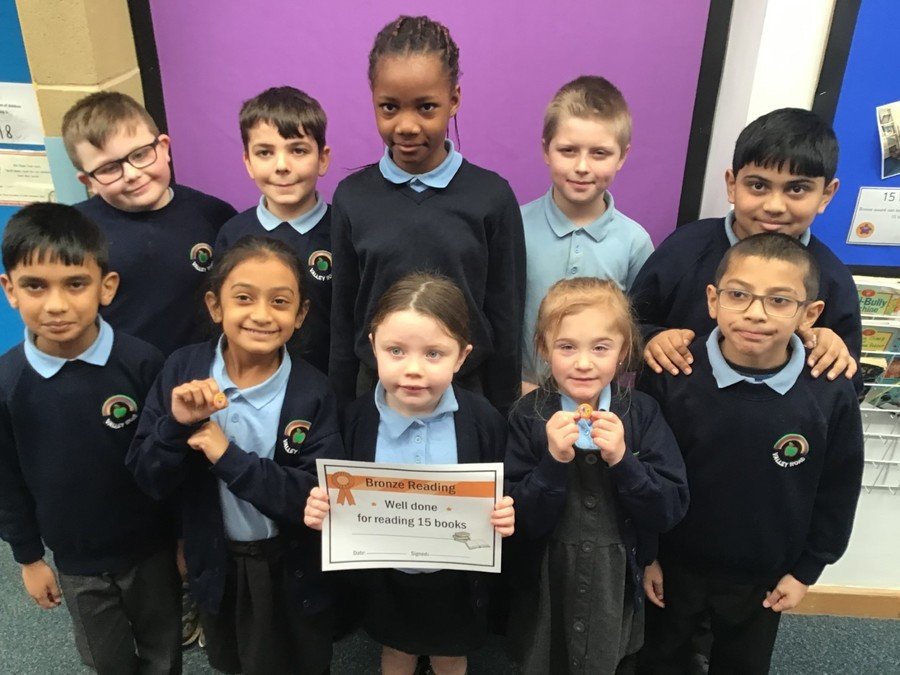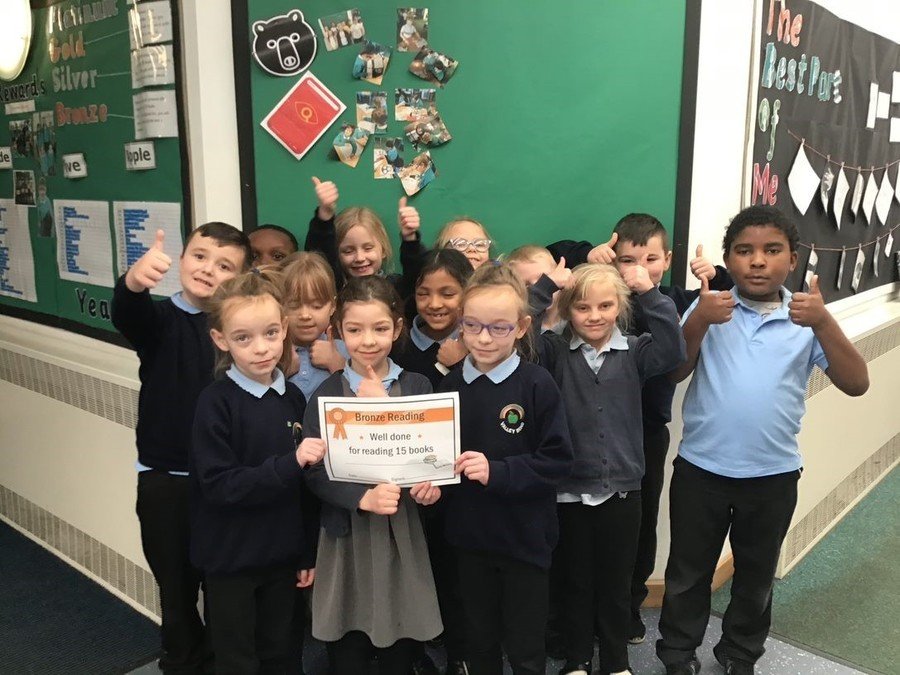 Bryanna is the first person to achieve her silver award and her smelly pencil and certificate!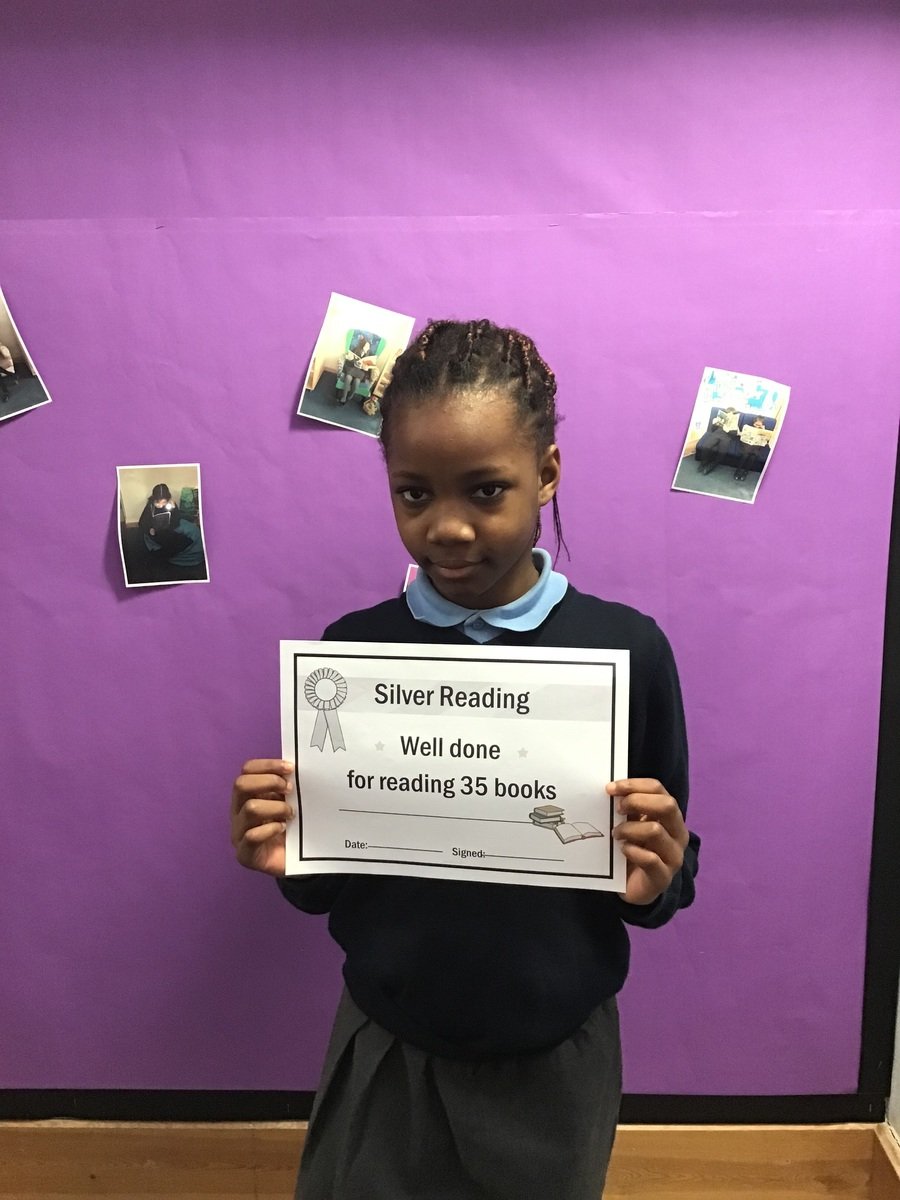 Literacy
We have really enjoyed reading a variety of poetry. We especially liked the style of a kenning poem. This inspired us to create some of our own. Take a look at our fantastic work and some of our amazing vocabulary choices.
Mental Wellbeing
This week, Aimee who is a Sunderland wellbeing nurse, came into school to talk to us about emotional health. Emotional health is about our feelings, our thinking, our emotions and our moods. We talked about how some feelings can be negative and some feelings can be positive. We know that if we are worried, we should talk about it! In our class, we have a worry basket and a mental health ambassador! At the end of the session, we read a poem and passed on a smile! Did you know a smile can be infectious?
Converting media.
(Media will continue converting in the background)
What Makes the Earth Angry?
This week, we have enjoyed starting our new topic, 'What makes the Earth Angry!' In PSHE, we talked about this question and there were lots of very mature and thoughtful suggestions, including people dropping litter, driving instead of walking, earthquakes and volcanoes. We talked about what we can do to help the Earth, these were some of the following suggestions.
Umar: 'Don't waste water and turn the tap off when you're brushing your teeth'.
Lilly B: 'Don't drop litter on the ground and if you see litter pick it up.'
Teigan: 'Walk to school instead of taking the car.'
Geography
In Geography, we have been identifying the location of some volcanoes around the world. We read a poem about Mount Vesuvius and this inspired us to research this particular volcano more! We found out that today, Mount Vesuvius is the only active volcano on the European mainland. This means it is still very dangerous. We wanted to find out more about why we have volcanoes.
We looked at the inside of the Earth. A long time ago people thought the Earth was hallow, now we know that the Earth is made up of lots of different layers – a bit like a cream egg. After reading more about this we made our own Earth, that included the crust, mantle, outer and inner core of the Earth.