our awards
European Quality label for the excellence 2016-17
Valley Road Primary School has been awarded with the European Quality label for the excellence of our collaborative eTwinning project 'Aprender a cooperar. Somos tus profesores/ Learn to cooperate'.
https://www.youtube.com/watch?v=cFashQ-NxxI
This means that the work of our students, our school and our community have been recognised at the highest European level.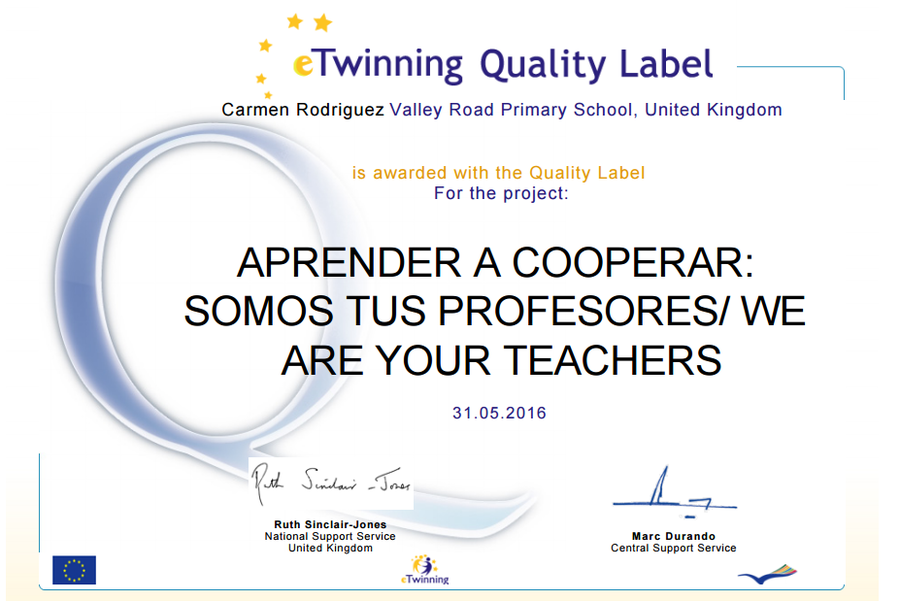 Taking part on this fantastic eTwinning project, has enabled our children to become Spanish and English teachers while exchanging activities and challenges with pupils from 'Colegio la Enseñanza' (Valladolid, Spain) and Burscough Village Primary School (Lancashire, UK)
The whole school is very proud of this achievement and we are looking forward to continue working hard while learning about other countries and cultures.
'Everybody enjoyed receiving this amazing prize and taking part in the eTwinning project' By Dylan and Lewis! Year 6
Our project will be displayed in a special area on the European Portal at www.etwinning.net. Let's have a look!
Foundation international school award
As a result of our commitment to quality and openness in European collaborative work, our school has achieved the Foundation level of the International School Award (ISA)
https://schoolsonline.britishcouncil.org/accreditation-and-awards/isa/uk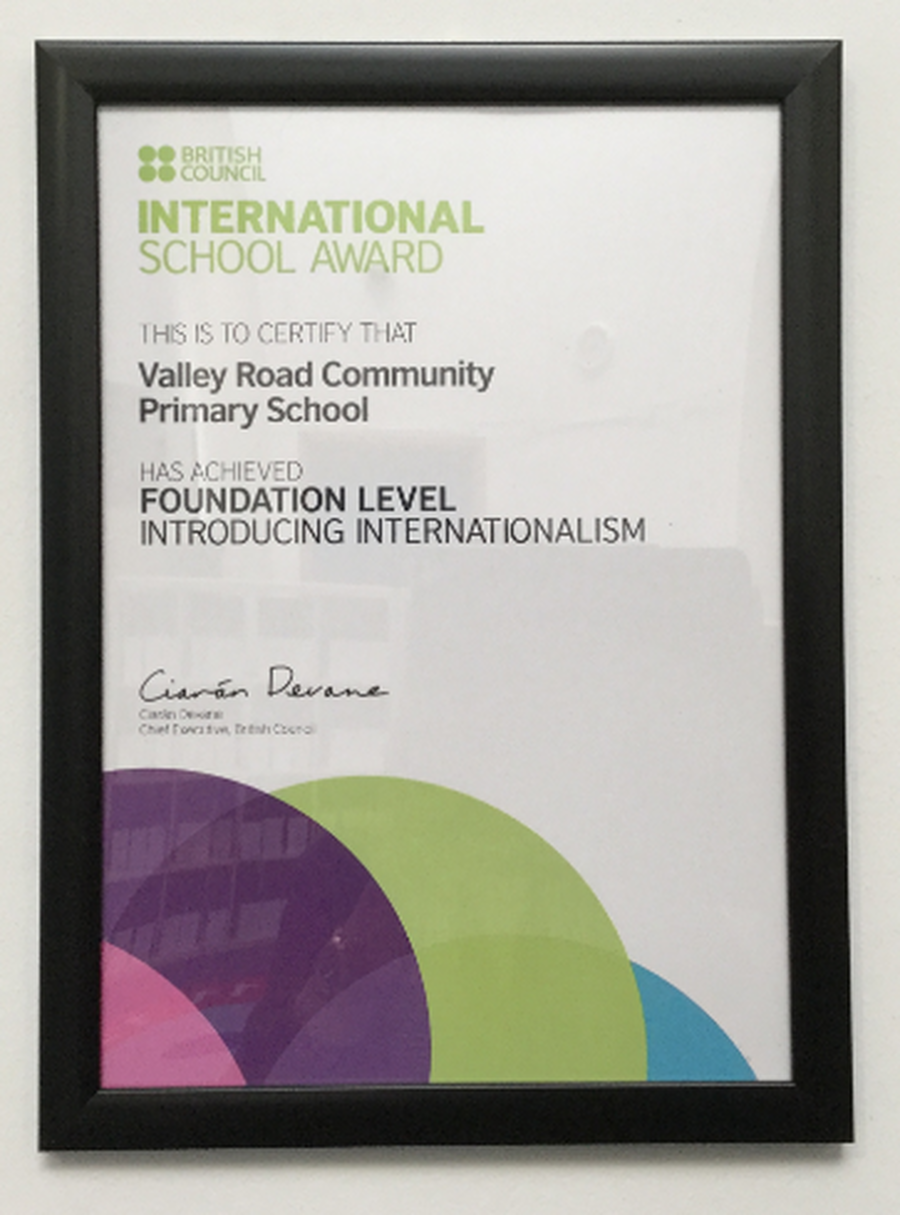 National prize and quality label 'Aprender a cooperar. We are your teachers' 2015-16
Our project 'Aprender a cooperar. We are your teachers' has also received the 'Quality label'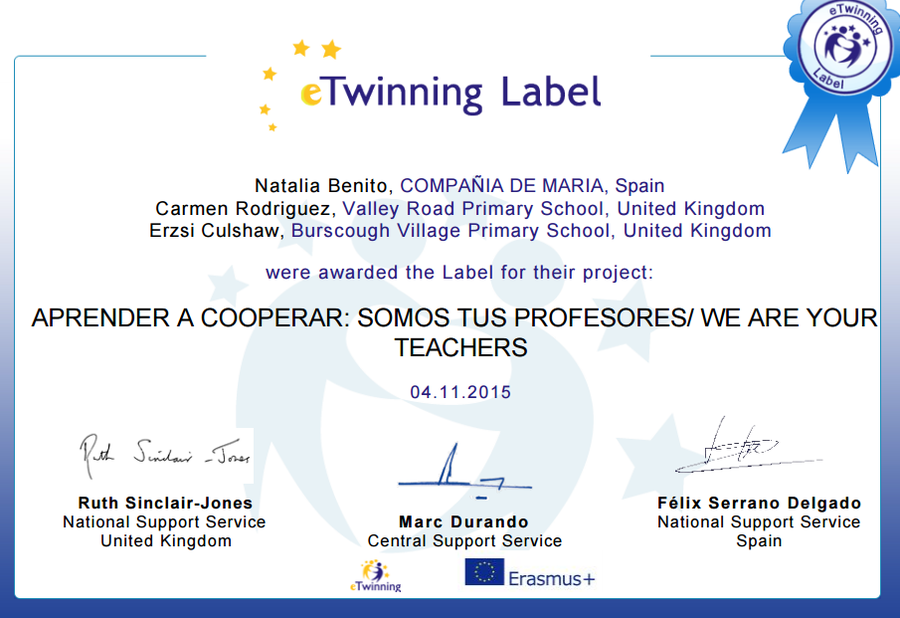 And the 'UK National prize'.
The whole school is very proud of our achievements
¡Muchas gracias! Thanks very much!
Quality label project 'Sharing in Spanish'2014-15
This project is about sharing what we are learning in our Spanish lessons. This can be a song, a story, a game, a quiz or other classroom activities. We encourage our pupils to take their first steps in language learning and how we can support each other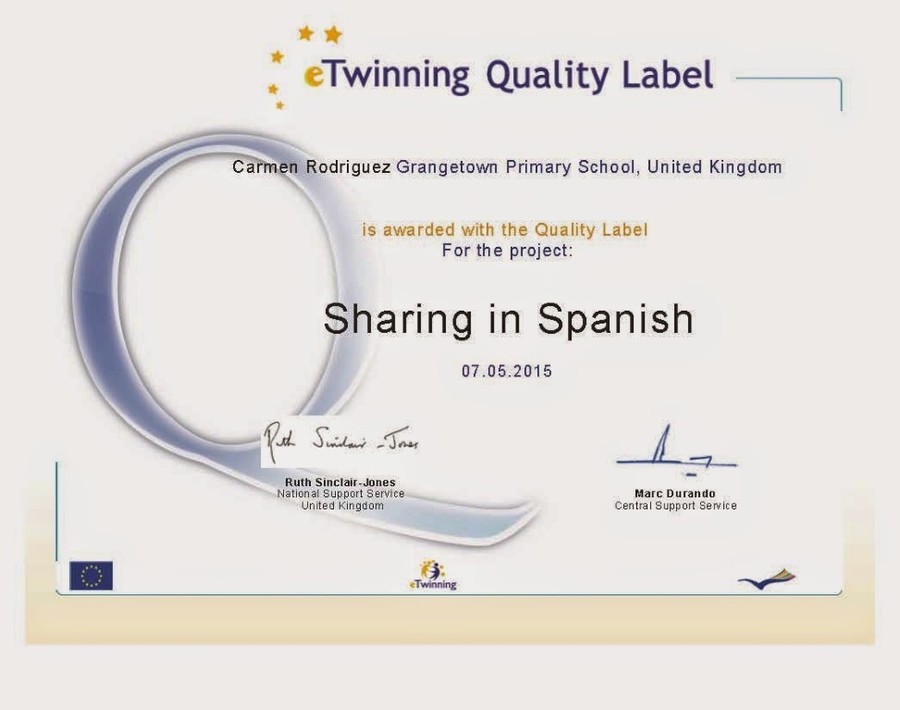 Bien hecho Chicos y chicas! Well done everybody!