Year 5 Spring 2018 - Inventors and INventions
Insight
We took part in a project at Southmoor Sixth Form. We learnt about ourselves and why we are who we are. We celebrated our uniqueness .
We also discussed our aspirations and our ambitions in life. We learnt about what is important in life and how to be successful.
We had a really good day.
rkkjfdkhcvklqehd;oqjw
kdqwhdiuqwhdpiqw
hoawhduoqwdhwqvfihwevfiiw
hdojqhdougqwiudgyiw
Paul Cookson Visit March 2018
We have been fortunate to have Paul Cookson in to work with us again.
Paul came to work with the whole of Year 5. We told him about our topic and the things we had been learning about.
We then thought of some fantastic inventions we would like to create to make our life in school easier and more entertaining. Then, we used these ideas to create a poem.
Here are the notes we made about what inventions we would like: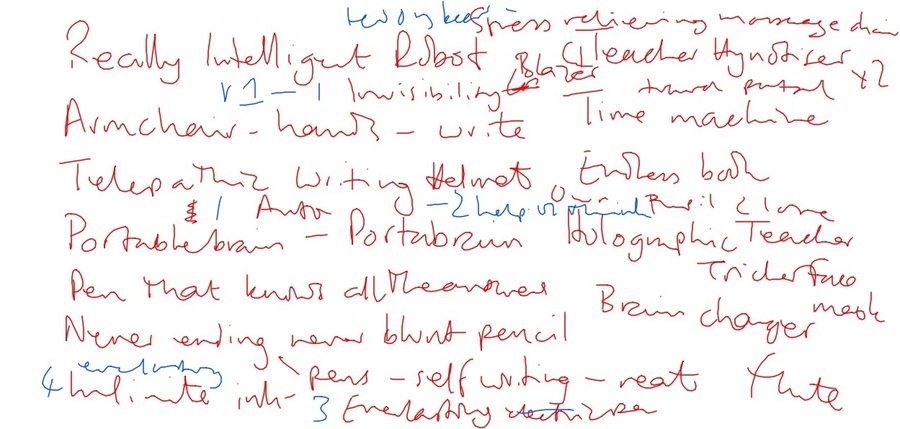 We turned these notes about inventions in to the poem below:
Lost Landscapes
Year 5 have been fortunate to be working on a project called Lost Landscapes and learning. So far, we have been on a trip to Rainton Meadows. We explored the landscape and were taught skills to help us navigate. We also investigated the wild plants we might find in the area.
We used all the skills we were taught to participate in orienteering int he afternoon.
RNLI water safety
The RNLI came to talk to us about how to keep safe near water. We learnt about different flags, currents and cold water shock. They taught us what to do in an emergency if there were no lifeguards around.
Science
In science we have been learning about friction. Here are some pictures of us using newton meters to measure the friction .
We noticed that the carpet had more friction than the table.
Perceptions First
In year 5, we had some visitors who came to speak to us about perceptions that we have of people. We specifically talked about perceptions we might have of people with disabilities and learning difficulties.
We worked together to talk about what we know about disabilities and learning difficulties. We also discussed what we wanted to know.
We also found out about famous people who have disabilities and learning difficulties.
Science Roadshow
We had the pleasure of seeing the Science Roadshow again this year! However, this year it was about electricity. Elizabeth showed us lots of cool things that happen because of nature and explained the science around them. Some of us even got up to help with some experiments.
Monozukuri Caravan Project at Nissan
On Wednesday and Thursday (17th/18th Jan) we took part in this project at Nissan. We learnt about the history of the Nissan company - Did you know they didn't begin making cars, they made machines! We also found out about how cars have changed over time and how they are made now.
We also got to build our own Lego cars and worked as a team in a production line to create some cars.
After lunch, we had a tour of some equipment and saw a robot that had been programmed to follow a series of commands.
We then worked as a team to complete some tasks linked to the skills needed when making a Nissan car.
We had a fantastic day!
"Best trip ever!" - Tanzeela Islam
"Thank you." - Oliver Kapura
"I really liked seeing the robot" - Adam Crookes
"I liked racing the F1 cars, that was fun." - Yasin Ahmed
OUR PE DAY HAS CHANGED. FROM JANUARY OUR PE SESSIONS WILL BE ON MONDAY AFTERNOONS. PLEASE REMEMBER TO BRING YOUR FULL VALLEY ROAD PE KIT!