Summer 2 2016 - Living THings
Dance Festival
On Tuesday 28th June, we went to the Empire to perform a wondeful, hard-working dance. Firstly, we went to the dressing room and put our stuff down. Then, we went down to reheare our dance. After practising our dance, we had our hair and make-up done.
We went upstairs to wait for our turn to perform. We were all really nervous but excited at the same time. Eventually, they called out 'Valley Road' and we nervously walked down the stairs to the stage. We performed our routine in front of our parents, selected children from the school and some complete strangers!!
After our performance, we went up into 'the gods' so we could watch the second half. The other schools performances were also really good. After all the performances, if our parents were there, we could go straight home but everyone else went back to school! We really enjoyed ourselves :)
By Nicol Murray-Carrick
Fiesta Espanol
On Tuesday 28th June, we celebrated Spanish Day. In the morning we had a whole school assmbly where we celebrated our achievement across the whole year. We watched some children perform some Spanish dancing and introduced La Fiesta Espanol.
After assembly, we went back to our normal classes. Throughout the morning we had some Year 6 mini-teachers who cam to check the vocabulary we had learnt over the year. Then, at 11.20am we went to the library where a visitor read to us in Spanish. She was really good!
In the afternoon, we made self portraits of ourselves in the style of Pablo Picasso - we made them abstract! Also Miss Fenwick's class learnt a Spanish song (this little light of mine-Esta Lucecita). Then, they came and taught us the song too. After we had all learnt the song, it was time for the end of day spanish assembly!
We were all excited for assembly because we had been trying really hard to collect tickets for the Spanish Raffle! Our teachers had been allocating us tickets for great behaviour and attitude towards Spanish day.
In assembly, we all sat down and crossed our fingers. Miss Rodriguez welcomed us all and thanked us all for having a great day. She then asked some children to help her pick the names. 1 person fromeahc class went to the front and then the Raffle commenced. In Year 5, Edison Houghton and Thomas Wilkinson won the raffle prizes. After the raffle, Year 3 performed a dance with castanets (that they had made) and we performed our song.
By Ibrahim and Keiran, 5 Jade
If you want to learn our song too... Access the link and words below:
Converting media.
(Media will continue converting in the background)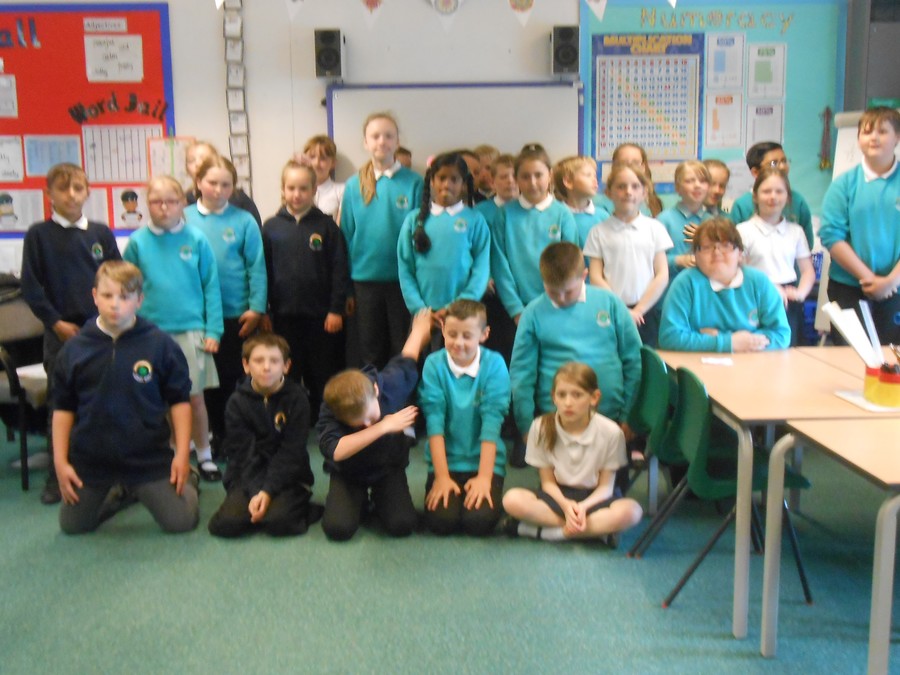 Wonderful Washington Wetlands
On Wednesday 29th June 2016, we went to Washington Wildfowl and Wetland Trust. As soon as we had done the register, we found some wellington boots for everyone- because it was forecast rain!!
Once everyone had suitable footwear, we got into our groups and stood with our partners ready to get on the bus. Walking up the gateway, we were a little excited because we had heard about the young animals that had been born in the recent months. We were also a little worried because we didn't want to be outside when it rained! We finally got onto the bus and prepared for our journey (seatbelts on, coats off, singing voices out).
After a short, pleasurable journey, we arrived at Washington Wildfowl and Wetland Trust and dismounted the bus. We stayed with our group leader, who led us down into the learning centre. Once inside, we placed our bags on the tables but kept our coats on. After a small talk, we split into two groups. Our group went with Anne and June, who took us along past the largest pond area and to feed the birds. We all got a small amount of corn to feed them, we were told to slowly place the corn in our hands, keeping them flat, and crouch down so the birds could come and eat it. It really tickled when they pecked the corn!!!
After feeding the animals (adults and young), we made our way into a woodland habitat. Anne and June explained all about the types of animals we might find here, then we were allowed to go and explore using a container and a brush. We used these items to scoop up the insects, that we found under logs, into the containers and took them back so we could share our findings. We found all sorts of insects: wooly aphids, a beetle, woodlice, a spider and centipedes. We made sure we washed our hands after touching all of those insects!!!
Next, we made our way back along the path that we had come on. We passed the other group and waved at them- they were going towards the activities we had just done. We continued our quiet walk along the bird-poo-smeared path towards the learning centre. Inside we went and back out the other side. We headed to the pond. Anne explained the activity in a mime and we had to explain what to do. We used the euipement to dip into the pond to see what types of creatures we could find. We found: a dragon which would turn into a water beetle; a shrimp, which was extremely tiny; and a greater boatman, that swims on its back and has long legs that catch its food. We had a look at them using a camera that zoomed in on the parts - they looked weird!
After this, we went to see the otters and flamingoes begin fed. The otters had babies and they were teaching them how to hunt for food, that the lead keeperhad hidden. They were so cute!!!
The flamingoes flocked towards us when they were being fed and we mangaed to learn a lot about the colours of them. The older flamingoes have brighter pink feathers, whereas the younger flamingoes are grey in colour with no pink feathers.
At 12 o'clock, it was finally time for lunch. We went inside the learning centre and ate our delicious lunch, that we had been waiting for. We also took off our coats and let them dry a bit because it was raingin outside. After dinner, we had free time so we split off into our groups and explored the area- mainly the inside areas because of all the heavy, disgusting rain. We went to look at the duckery, the otters (again), and the bird spotting cabin (Hawethorne Hideaway).
We made our way back to the learning centre for our final activity. We all sat around a large map of the world and discussed the different continents and what the habitats were like there. Then, we looked at some confiscated items that had come from different animals. My favourite was the elephants tusk.
Overall we had a fantastic day! We all went to the toilet and then got onto the bus for our sleep journey back to school.
By Miss Fenwick's Year 5 Literacy Class