Latest Working with Families information
English as A Second Language (ESOL)
Two of our parents who attend ESOL are eager to improve their English language and attend classes each Friday morning. They are learning the alphabet and improving their handwriting.
Macmillan Coffee Morning September 2018
Thank you to those parents who supported the Macmillan Big Coffee Morning, the amount raised went to support this worthy cause.
Jebun Nahar, receiving her Community Champion Award, at the Stadium of Light. Jebun's award was sponsored by The Big Lottery Fund, the event was organised by The Foundation of Light. The award rewards her continuing efforts in setting up and developing a Bengali Ladies Group who meet every Thursday in Valley Road School.
Peer Support Group
Our Peer Support Group visited the Journey to Justice exhibition at Sunderland Winter Gardens where the book our group have had published was on show to the public
Parent Anti-Bullying Ambassadors Community Links Award
Congratulations to the parents/carers involved in this group, they have been given this award for the second time. Each year the city's anti-bullying team has an event which celebrates the work carried out in Sunderland's schools around raising awareness of anti-bullying. The parents/carers of Valley Road have been presented with the 'making positive links with the community award' this is due to their work around the impact of bullying and the setting up of the Community Spirit group who fund raise for day trips during school holidays.
Student of the month
Congratulations to Jebun Nahar who has won a student of the month award with City of Sunderland College. Jebun was nominated for her improvement in maths and community work with Bengali ladies in Valley Road School.
Community Spirit
Congratulations to the Community Spirit parent volunteers, a recent application to the Back on the Map Big Fourteen Grants has been successful. Parents have secured a grant of £850 to support with further day trips and other events to support local children and families.
Courses
Sunderland College- Free of charge, Maths class each Tuesday from 1:00 p.m. - 3:00 p.m. Class explores methods used in the classroom so that children can be supported at home. Please speak to Carolyn Trueman or Angela Hibbert for more information.
ESOL - (English as a Second Language) Any Parent/Carer that wishes to improve their use of the English language please come along to this class each Friday from 9:00 a.m. - 11:00 a.m. in the school training room. Class is free of charge. For more information please speak to Carolyn Trueman or Angela Hibbert.
Bengali Women's group
This group continues to meet each Thursday morning from 9:15 - 11:30 a.m. in the school training room, the ladies are currently practising their sewing skills making dresses and other items of clothing. The photos below show them making bags and baking cookies. If you would like further information please speak to Jebun Nahar in school or telephone 0191 5002999
Community Spirit day trip to Preston Park and Adventure Valley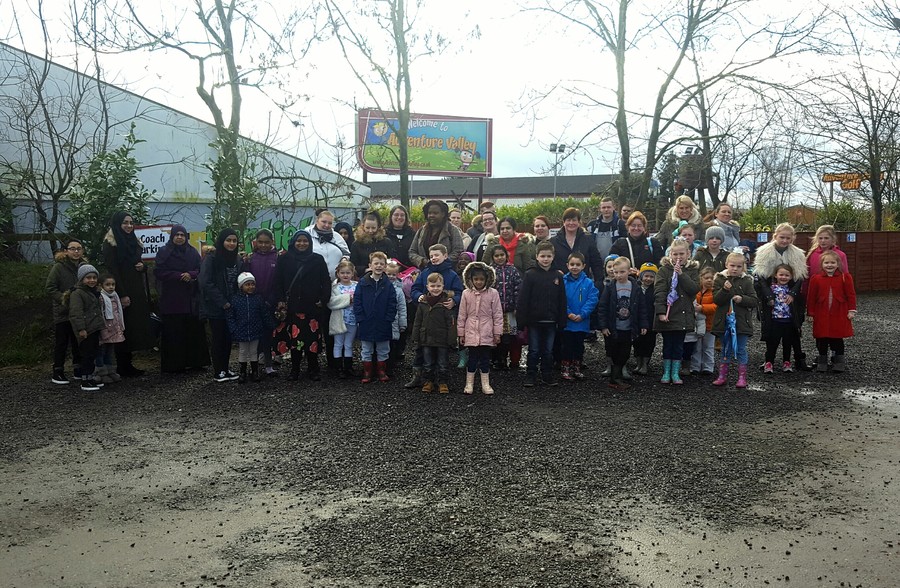 Mini Moo's day trip
Community Spirit parents/carers and children enjoyed a day trip to Mini Moo's farm, the children enjoyed activities such as soft play and tractor rides, they learnt about different animals and had the opportunity to feed them.
Community Spirit parents/carers continue to meet each Wednesday morning from 9:00-10:30 a.m. in the community kitchen, if you are interested in joining the group then please come along or if you would like further information please speak to Abbigail Higgins, Jebun Nahar, Dawn Johnson or Kimberly Buglass.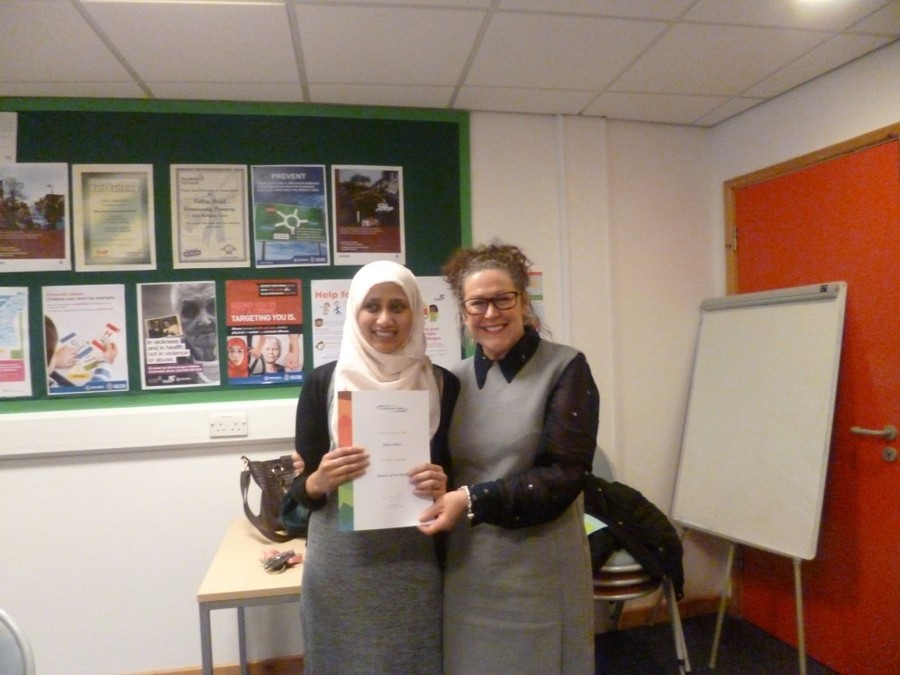 Jebun Nahar presented with her student of the month award from Debra de Muschamp