Our School's winter scene, complete with lights and tree
After School Clubs Autumn Term
Our School house captains and School council members for 2017-2018
KEEPING SAFE AT THE SCHOOL GATES
We recently placed some reminders on the school fence to prevent drivers stopping in an unsafe zig-zag zone outside school. School Council worked hard to identify the issues, find and then buy banners.
Imagine their horror when faced with this .....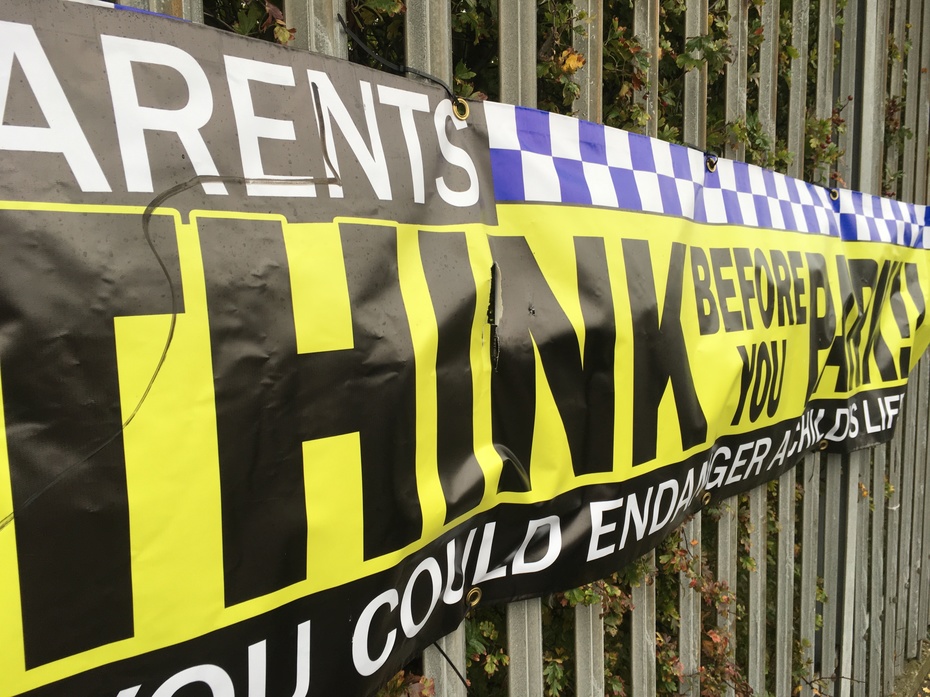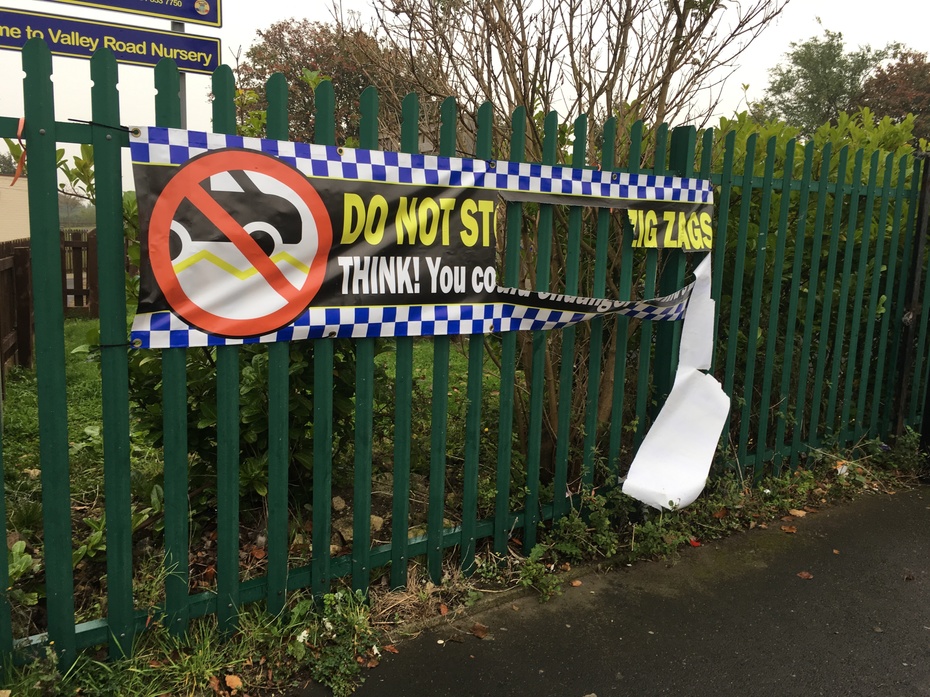 We are so disappointed that some thoughtless people have decide to destroy something designed to keep us safe
Despite the rain, children enjoyed a range of explorer linked outdoor activities (although some had to be moved inside!). They packed a rucksack for an expedition, made a wooden medal, cooked on the fire pit and built shelters from sticks and fabric. They explored the use of boats by famous historical explorers and designed and made their own boat. They had to 'buy' materials and think about how their boat could travel by wind power. The winning boat managed to carry 1.3kg of cargo!
Each child also painted a story stone to show their learning experience over the week. These will be used to make a permanent display in the school grounds – watch this space!
A whole school sing-song on Friday afternoon rounded off the week and the sun even made an appearance!
EID-AL-FITR CELEBRATIONS
We celebrated the end of Ramadan by having our very own Eid-al-Fitr celebration. Each class attended a party in the hall where Miss Mohammed and Miss Arshad taught us some Bollywood dancing. We also played some games and received a special Eid biscuit.
We all had fun!
A truly scrumptious cake sale on Friday 16th June 2017!
Thank you to our Friday morning coffee group who brought the event together. Thanks also for all of you who donated gorgeous cakes . Friday Morning in the community kitchen - all welcome coffee and a chin wag - just after drop off - see you then x
International Spanish survey
Hi all we are conducting a small survey regarding Spanish and our International links, we would be grateful if you could take two minutes to complete. Just click on the link below
Valley Road Community Primary School is a Great Active Sunderland School.
Valley Road Community Primary School is celebrating achieving the Gold award for the Great Active Sunderland Schools Charter.
The Great Active Sunderland School Charter has been developed to be a celebration of school's who are improving the health and wellbeing of pupils, creating sport and physical activity opportunities and being a great community school. The Charter has 18 elements with schools across the City working towards achieving enough components to gain either a Bronze, Silver or Gold standard.
Valley Road Community Primary School has worked hard to encourage its students to embrace a culture of exercise, physical activity and healthy eating and have been rewarded by achieving the Gold award.
Councillor John Kelly, Portfolio Holder for Public Health, Wellness and Culture, commented that "The Great Active Sunderland School Charter is an innovative accreditation developed with the aim of ensuring schools work towards the city's outcome of; 'All together an Active Sunderland' and ensuring that schools are recognised for the important work that they do in physical education, sport, physical activity and in the community".

Debra De Muschamp the head teacher of Valley Road Community Primary School is very proud of the school becoming one of the first schools in Sunderland to be awarded the Gold award for the Great Active Sunderland Schools Charter. The Charter has proved to be a great improvement tool and gives credit to the school for its achievements in creating a culture of sport, exercise, physical activity and healthy eating.
Schools games gold Mark
Valley road received the schools games Gold award mark, click the link below for more information about the school games mark
https://www.yourschoolgames.com/your_school/sainsburys-school-games-mark